Are you looking for a location?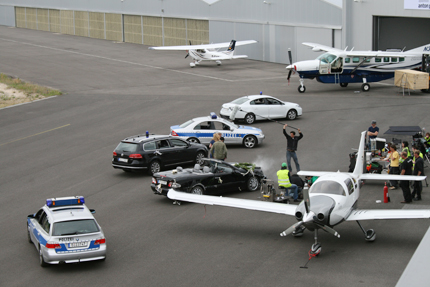 Due to continually increasing safety regulations, it is becoming all the more difficult to get permission to film at large international airports. Even if permission is given, shooting is more often than not hampered and delayed by numerous legal regulations.
Airports such as Schönhagen have it easier in this respect, as they have fewer legal regulations to meet.
Since filming has by now become routine in Schönhagen, we have agreed on some standard practices with the responsible aviation safety authorities. Provided these are adhered to, our management can fast-track your filming permit, directly and without the need for further official applications.
Only filming which extends beyond two days of shooting needs a further permit from the aviation authorities, which we will be pleased to obtain for you.
Schönhagen Airport provides you with a set which has already proved itself in numerous television and advertising productions. We can offer you an 1,500 m long asphalt main runway and approach lighting to the latest standards, a second 700 m long asphalt cross runway, a third 760 m long grass runway, as well as area for gliders.
Apart from the main runway and taxiway, the other runways can be closed off for filming by the hour or by the day.
We will gladly place the tower, terminal, restaurant, apron, and various hangars at your disposal, as well as rooms you can use as make-up and dressing rooms.
Take a look at the Berlin-Brandenburg Film Commission link, where you will find further information and pictures.
If you have any questions or would like to book our location, please contact Frau Kühn via Telephone: +49 33731-305-40 or fill in our contact form.