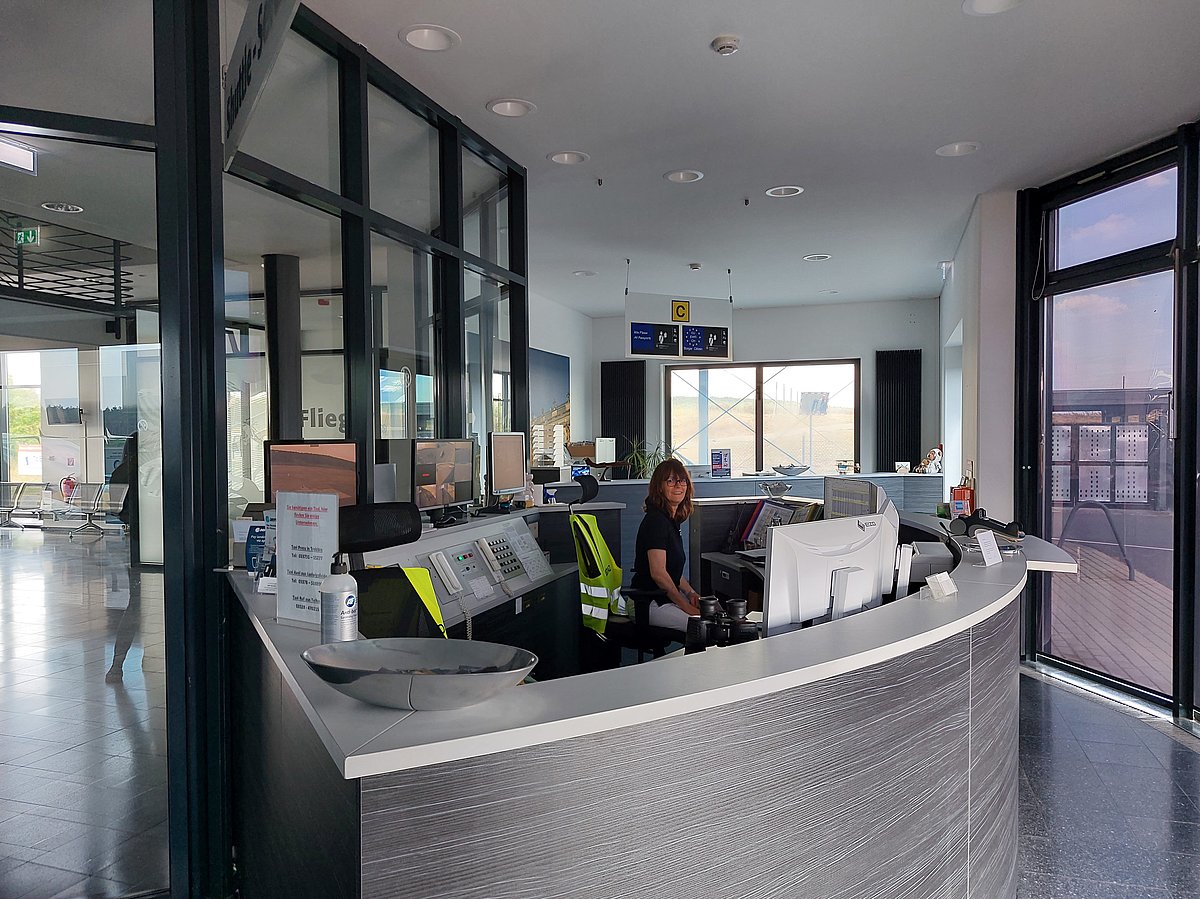 Aircraft, crew and guests are all well taken care of.
The services we offer for pilots and aircraft range from diverse parking facilities, border control and customs clearance to the sale of tax-exempt fuel (JET A-1). Our tow vehicle can pull aircraft of up to 14 tonnes to any location on the airfield.
A a flight preparation room with the latest mapping material, internet access to METI and AIS, fax and telephone make it easy for pilots to prepare for their next flight.
Of course, free WLAN access is available in the terminal building.
We offer a flexible shuttle service for passengers and crew - on request directly from the apron.
We can assist you in finding a suitable hotel and/or transportation arrangements. Even a small catering for the return flight can be prepared according to your wishes.
Our comfortable lounge or the conference room in the terminal building are particularly suitable for small meetings, both with catering provided if desired.
Direktly at the airport you find our chauffeur and limousine service Stölzel, which we warmly recommend:
Phone: +49 33702 209887
E-Mail: Info@limousinenservice-stoelzel.de
Our Partner Limousinen-Service Felix Winkler in Potsdam provides not only an exquisite chauffeur-service but also a taxi-/shuttleservice and an airport transfer. Felix Winkler supports you individually as a business traveler or tourist according to your wishes:
Phone: +49 331 879 072 78, Mobile Phone: +49 178 300 500 4
E-Mail: Info@limlousinen-winkler.de
An additional partner who brings you comfortable to your destination is Gronebaum Touristik
What about pure driving pleasure? Top your stay with an exceptional rental car and allow yourself a classic Prosche 911 Carrera. Four air-coold 911-legends are available for half-day-, day- or multi-day-rental, depending on availability. The cars can be taken over and be returned on site. Details under www.boxertours.de
We are glad to establish the contakt for you.