Welcome to Schönhagen airport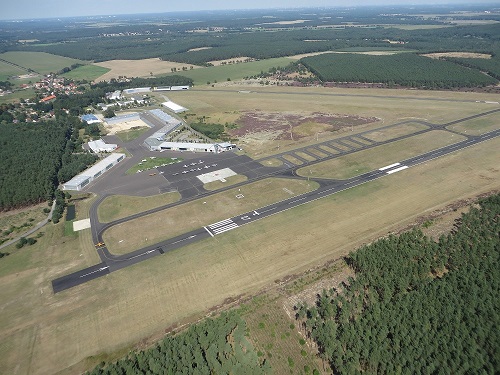 Schönhagen airport is one of the most important airports in Germany and the largest in the new federal states. Here you can find the full range of general aviation. The airport is optimally developed for business aviation and provides an attractive base for private planes and recreational flying.In the category of aircraft up to 14 tonnes in maximum take-off weight (MTOW) Schönhagen is also becoming the most important alternative airport for the new Berlin Brandenburg International Airport (BER). Thirty-four companies and five clubs are currently located directly at Schönhagen airport. Thirty-nine other companies based in Berlin and Brandenburg have stationed their aircraft in Schönhagen and conduct their operations from there. In total there are 180 aircraft currently located in the hangars at Schönhagen. At Schönhagen you will find aircraft and helicopter hangars, avionics specialists and aircraft manufacturers, flight schools and charter companies, flying clubs and a restaurant. In Schönhagen you can park your plane, start a business or rent a hangar for an event. For more information about what Schönhagen Airport and its companies can do for you, please take a look at the following pages.

Schönhagen – The Airport on Berlin's Doorstep – In the Heart of Europe
Its attractive setting on the edge of this rapidly growing economic region, lying south of Berlin, between Potsdam and the Schönefelder Kreuz interchange, gives added stimulus to Schönhagen's location, that will be enhanced by the construction of the major international airport BBI in the future. The airport is within easy reach via steadily expanding motorways, trunk roads and the regional train line. Schönhagen is not just an airport, but also a resource for attracting businesses, research, conferences, events, and innovative technologies.


Nature and Aerospace Technology in Harmony
The airport is nestled in the woods, heath and lakeland scenery of the Nuthe Nieplitz Nature Park. Its long-term cooperation with the park administration shows that nature and technology need not be mutually exclusive, but can develop in harmony. As the largest commercial airport in the new federal states we are a strong partner for aviation and, with our growing aviation and technology park, an excellent location for innovative companies.